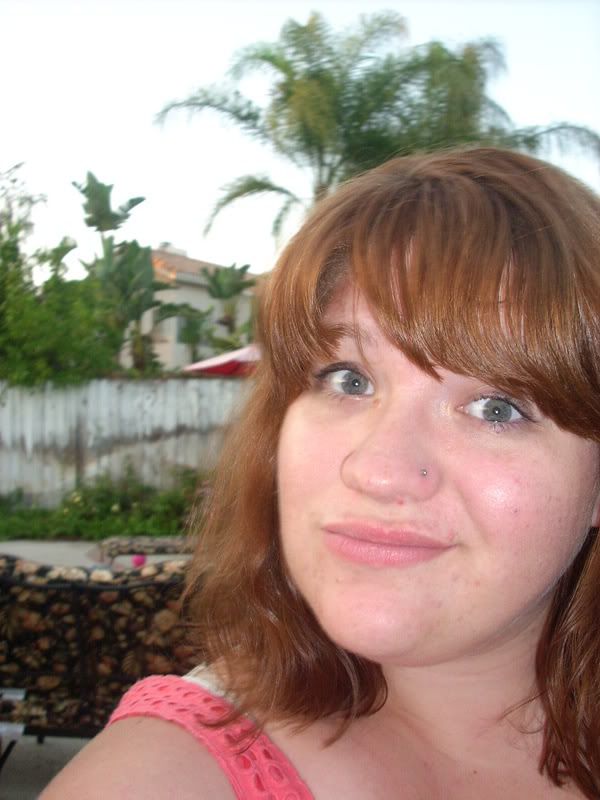 This is my cute new nose piercing, a souvenir from Portland. I can't tell you all how happy I am with it! Yay for my nose!
Not having a great go with the pattern making. I'm going to work on it some more tonight while I watch Project Runway. I'm really hoping to have it done by Sunday when we go to the beach. I am in a huge beach mood. Bri's birthday is Friday and I think I'm going to wear my Yellow dress and shoes. I need to buy some black tights for it though. Maybe navy blue tights would be cool? then I could wear my forever21 bag and blue cardigan? Man I need to do laundry so bad!
School starts in almost a month, I am not a summer girl, but I do wish we had more time off. I had so many plans for this summer and haven't done a single thing that was on my list. I haven't even looked at the fall classes catalogue. I keep procrastinating thinking it won't come if I don't open the catalogue. But it will so I should get cracking. I just want to be done with school!
Do you ever get that feeling that something big is coming? It makes you feel kinda paranoidish because you keep waiting and waiting and just when you are about to give up POW! It hits you. I've kinda felt that way all week. Like something going to come and change and it's going to be big. maybe I'm crazy?
In other news my Netflix just brought me happiness in the form of Gidget movies and the first two disks of the TV show! yay!
well I'm off to the boob tube to watch Project Runway, and hopefully figure out this pattern!
Ciao Darlings,
Peace, love, and save the bees